Drone Repair Services
Let's help you get your drone flying again
One of the safety goals of flying a drone is to minimize the risk of fault or accident. But we understand that no matter how careful you may be, it's possible for your drone to develop issues. Whether for business or personal use, we know how frustrating it can be when your drone becomes faulty.
That's why we're here to help.
Our drone technicians have been trained to provide only the best of repair services, use high-quality spare parts and come up with innovative solutions. So you can be assured that your drones are in the best hands.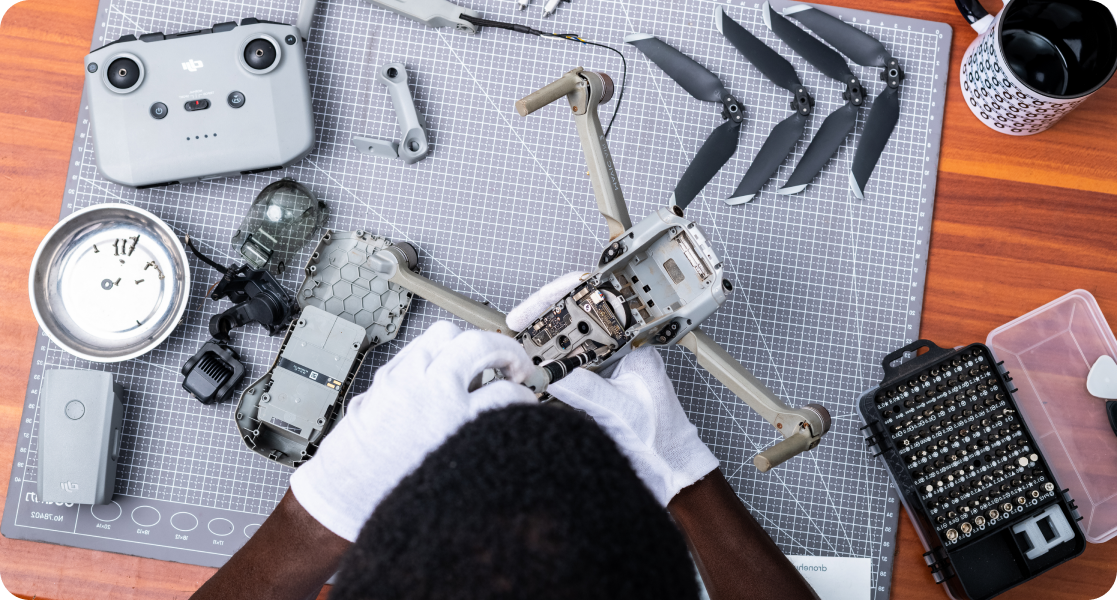 How We Operate
Consultation, Diagnosis and Repair

Consultation
We listen to understand the problem with your drone.

Diagnosis
We perform diagnostic work to determine the underlying cause of your drone's malfunction, repair works required, repair estimate and timeline.

Repair
With your approval, we perform the repair and test-fly your drone to ensure it works as expected.
Detailed Repair Process
1
Service Request
Book a repair service by calling or emailing us with a brief description of the issue.
2
Drop-off
Drop off your drone at our store for repair.
3
Repair Estimate
After we assess and diagnose the fault with your drone, we provide you with a repair estimate and timeline.
4
Repair & Testing
Once approved, we carry out the repairs and test fly to ensure the drone works as expected.
5
Payment & Pickup
On completion of repair, you are required to pick up your drone after payment.
What's in it for you?
Our team of trained technicians provide the assurance that every repair is completed on time and with due care. So you can be sure to get maximum value for your money. The best part? We offer part and service warranty on all repairs.
Part & Service Warranty
Timely Service
Customer-Oriented Service
OEM & Quality Parts
Free Consultation
Certified Technicians
Customer-Oriented Service
Summary of Issues we work on
Airframe Damage
Gimbal & Camera Damage
Remote Controller Damage
Motor Damage
Drone Platforms We Repair
Get updates on industry innovations and the latest free assets for
By submitting your information, you are agreeing to receive news, surveys, and special offers from Dronehub Ghana Limited. Terms and Conditions, Privacy Policy
Your preferred drone products and solutions provider in Africa
Everything drones
H/No. 60 Co-Operative Building, Opposite Glico Insurance, Kwame Nkrumah Avenue, Adabraka, Greater Accra, Ghana GA-075-8188
---
---
---
© 2023 Dronehub Ghana Limited All rights reserved.